Chef Q & A: Patrons FiredUp about Palm Bay Pizzeria

BY MARIA SONNENBERG • FOR FLORIDA TODAY • June 25, 2009


Pizza connoisseurs will attest that pizza baked in a coal oven differs from conveyor belt counterparts.
Advertisement

Coal-fired pizza is crème-de-la-crème, but often hard to find because of the labor intensity involved.

Three weeks ago, Fired Up Pizzeria brought this Italian delight to Brevard, thanks to brothers Adam and David Avchen, who've created a handsome restaurant dominated by the copper and slate-clad coal oven and the taste treasures that are born within.

It's easy to get all fired up about Fired Up, a pizzeria not at all typical.

Here's more. How did Fired Up come to be?

David: Adam has worked in the restaurant business. This is my first go. I've lived here for 23 years. Adam lives in Broward but comes to stay with me.

Adam: I worked at Tutti's in Coral Gables, and I also opened up the North Miami Tutti's.

David: This may be a tough time to open a restaurant, but we believe
that if you provide good food and good service, you can be successful in any economy. We've had remarkable repeat business. We've only been open three weeks, but we've already had people who have come here a dozen times.

What's the big deal about coal ovens?

David: We believe this is the only one in Brevard County. It's very expensive, because of the labor to keep the oven at the proper temperature. There's constant labor involved. The oven only takes coal. There's no gas, no electric.

Adam: This is the most famous way to make pizza. At slice.com, they actually track coal ovens across the country. It's the traditional way the pizza was created in Naples. This is pizza that comes out of the oven with a crust that is crispy. Coal adds a very special flavor. Once you have coal-fired oven pizza, you'll never have another regular pizza again.

Adam: Our meatlovers' pizza is the most popular.

David: We also serve a margherita pizza people adore. For dessert, we have a signature apple pizza pie with cookie crumbs and caramel on top.

Family?

David: I have three children. By the end of summer, all three will be in college or will have graduated from college.

Adam: Two kids, ages 9 and 6.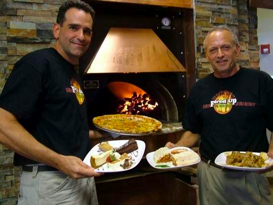 HOME NEWS COMMUNITIES SPORTS MULTIMEDIA LIFE WEATHER OPINION OBITUARIES DATA CENTER CLASSIFIEDS CUSTOMER SERVICE
Adam, left, and David Avchen make coal-fired pizzas at Fired Up Pizzeria in Palm Bay. (Maria Sonnenberg, for FLORIDA TODAY)
Fired Up Pizzeria

Where: 195 Malabar Road N.W., Palm Bay
Call: 727-FIRE
Hours: 11 a.m. to 10 p.m. Sundays through Thursdays and 11 a.m. to 11 p.m., or until the game ends, on Fridays and Saturdays
Of note: Lunch specials include a slice of cheese pizza with a drink for $3.50. Add more toppings at 50 cents a topping. Two slices and a drink are $4.99. Half sandwiches, including meatball parmesan and sausage and pepper, are $4.99, with fries and a drink included.
In addition to the pizza, the menu includes calzones, Stromboli, sandwiches and salads, as well as fire-roasted chicken wings served over focaccia.
For dessert, try cannoli, New York-style cheesecake, triple chocolate torte and other delights, all prepared in-house by pastry chef Jacqueline Hayes.
Bread and pizza dough are made fresh, as are sauces.
Events include car shows on Tuesday nights and poker nights on Thursdays and Sundays.
In the planning stage is a kids' night that will allow younger pizza chefs to make their own pizzas, which will be safely popped in the oven by Fired Up staff.
Unlike most pizzerias, outdoor seating here is very pleasant, with comfy chairs to watch Palm Bay go by.